"How To....."
Fuel Pump Wiring Installation
(June 01, 2010)
---
A large proportion of vehicles these days have increased capacity engines and with that, the need for a larger capacity fuel pumps. Naturally the factory mechanical fuel pumps give way to various styles of fuel electric pump.
One such version that delivers the correct fuel pressure at 3.5psi is the CB Performance Rotary Fuel Pump. http://www.cbperformance.com/catalog.asp?ProductID=577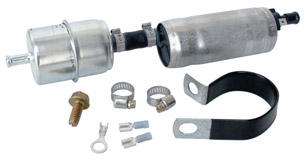 Quite often owners install fuel pumps wired directly from the ignition triggered wire that feeds the coil. A better installation has the fuel pump powered via an electrical relay triggered by the coil wire with a new fused feed for the pump. Though this method still has the disadvantage of the pump running as soon as the key is turned, even though the engine is not running and requiring no fuel pressure.
Here we have a different wiring installation suitable for any engine fitted with carb's, (ie not for engines with fuel injection).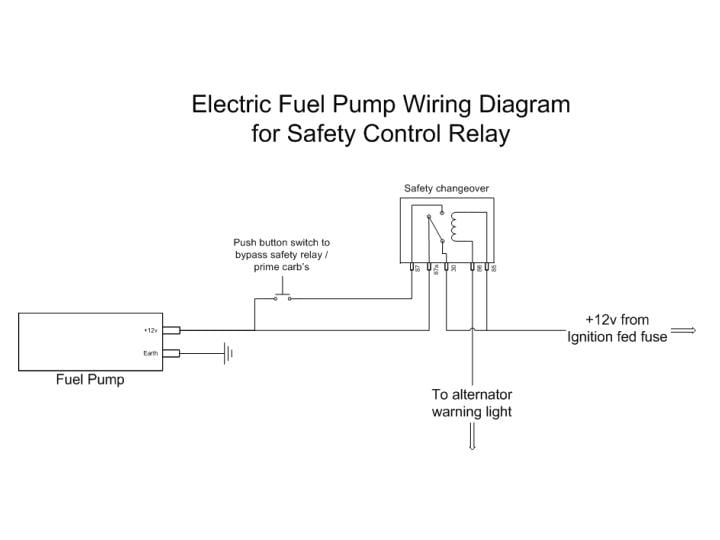 The installation allows the new electric fuel pump to run as soon as the engine starts but will cut the fuel pump power if the engine stalls when unattended or in an accident were the engine stops. If the carb' float chambers are low on fuel, (ie after a fresh install or if the engine has stood for an extended period of time), then the bypass push button allows the driver to prime the carb's prior to starting the engine.