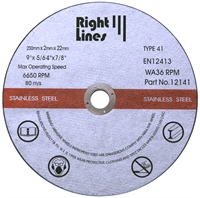 Cutting Disks
Metal. 115x22mm
Well balanced thin cutting disks: These disks unlike cheap alternatives do not cause excessive vibration through the angle grinder resulting in easier and less tiring work.
Applications: Although optimised for stainless and hard steels, these discs will also give a faster cut and produce less waste on mild steel.
Product Notes: These discs comply with EN12413. They are free from sulphorous, ferrous and chlorinated fillers and can be used on stainless steel without contamination risk.