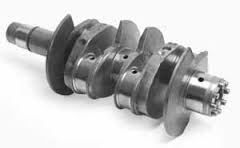 DPR 78.2mm Wedgemated Crank & Flywheel
The original VW German OEM crankshaft is probably the finest crank ever produced for the VW air cooled engine.The alloy and manufacturing process is superior to all other cranks produced in Brazil, Mexico or China. For this reason it is the base crank used on all DPR produced crankshafts.
Counterweight 78.2mm – Fully Balanced
Drilled for long 8mmx3/4 dowel pin (includes pins) with wedgemated & balanced flyheel - ideal for use in hign power engines.
These begin their NEW life as a VW German Chrome Vanadium Steel flywheel core, and it's meticulously resurfaced (on 5 important surfaces), drilled in the SPG 8-Dowelled pattern, wedgemate & heat treatment.

then a race balance job!
Aftermarket imported flywheels (even "Chome Moly" or "Forged" ones) are not the same quality nor durability as these are.