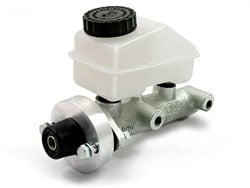 Dual Circuit Master Cylinder Upgrade
Replacement master cylinder & fitting kit - Split Bus
Upgrade your braking system.
Replaces the old single circuit set-up with new dual circuit master cylinder.
Improved safety from having two seperate fluid cicuits in case of leaks.
Essential upgrade for conversion to disc brakes as prevents brake bind.
The new reservoir & fittings.
For a complete upgrade to your braking performance, install a brake servo, to transform your vehicle.