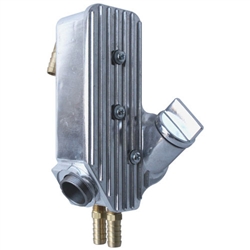 Oil Filler Breather Box Kit
CB Performance - USA Made Version
Internally baffled to separate engine oil blow-by and return it to the oil into the crankcase.
Special threaded oil filler has O-ring seal.
Adding oil is a snap in Sedans and VW Vans.
The Oil Filler Breather Box is the most versatile engine breather available today.
You can vent your valve covers, crankcase, install a vented fuel pump return and run a vented road pipe for maximum engine breathing, all using the combination of five threaded ports. Additional blanking plugs are available if not using all the ports.

It fits all upright VW engines and is easy to install. You can use Aeroquip specific, rubber or plastic hose.
The Oil Filler Breather Box is cast from sturdy aluminum and features a finned front cover with O-ring seal. It is mounted to the engine with a special VW oil tower gland nut, included in Kit.
Does not work with MST Billet Alternator Stands or OE Mexican Beetle Alternator Stands