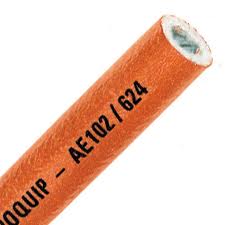 Firesleeve
1/2" Oil hose protection
Fireproof sleeving. Withstands exposure to 1650°C.
When exposed to flames creates a protective SiO2 refractory layer
Especially choosen to work with Aeroquip oil hose.


TECHNICAL SPECIFICATION


TUBE: DENSE GLASS FIBRE

COVER: RED OXIDE SILICONE
DIAMETER: SUITABLE FOR HOSE WITH 1/2" (19mm) OD

TEMPERATURE RANGE: CONTINUOUS USE AT 260°C. SHORT TERM EXPOSURE TO 1650°C

Priced per HALF meter lengths.
Please specify if you require longer length.