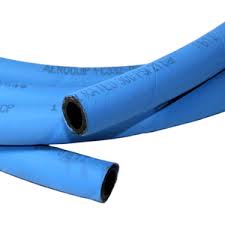 Hose - Aeroquip
FC332 "Socketless" Hose
Available in black or blue outer layer.
Available in 3/8" or 1/2" sizes.
Complies with FIA regulations. Use for all oil, power steering return hose, also petrol, air and water.
This is a high spec' textile hose with synthetic rubber inner tube, one layer of textile braid reinforcement and a synthetic rubber outer layer.
The assembly of hose to fitting is very simple, the end fitting is simply pushed into the hose, for best results warm the end of the hose in hot water before assembly.
This hose has the reinforcing braid woven in such a way that the grip on the fir tree type fitting increases as the force trying to push it out increases. No need for ugly "jubilee" style clips.
This type of hose and fitting can be interchangeable between brands but only genuine Aeroquip assemblies can be guaranteed.
Sold per meter.
For added heat protection where a hose passes close to an exhaust or turbo, "Firesleeve" can be fitted to the hose.