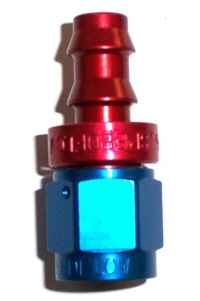 Hose Fitting - Speedflow
Push-fit hose connector
Simply warm the Aeroquip hose and push over the barbs on the fitting. No clamps required.
Available Red/blue or Black anodized - Speedflow aluminium.
-6JIC for 3/8" hose
-8JIC for 1/2" hose
Speedflow fittings have a higher quality finish & angled fittings are a tigher radius ideal when space is at a premium.