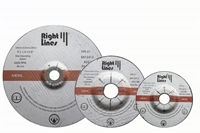 Grinding Disks
Metal. 115x22mm
Well balanced grinding disks: These disks unlike cheap alternatives do not cause excessive vibration through the angle grinder resulting in easier and less tiring work.
Applications: These standard grade grinding discs are ideal for mild steel and cast iron.
Product Notes: As they are designed for use on their face, these discs have depressed centres (Type 27) to provide easy surface contact. Thickness is 6.4mm and they are fully compliant with EN12413.