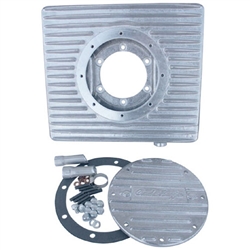 Thin Line Oil Sump - 1 1/2 qt.
11" width x 10 1/2" height x 1 7/8" deep
The all-new Thin Line oil sump extends only 2 inches below your engine case.
It adds vital oil capacity and cooling to help keep your engine alive during hot weather. The front of the Thin Line Sump features a ram air profile to force air between the engine case and sump for even greater cooling. The Increased oil capacity helps prevent oil starvation and pump cavitation during hard cornering and acceleration. Deep fins, precision machining and super easy installation are engineered right into the Thin Line Oil Sump. Bolts right on to all Type 1, 2 and 3 VW engines with easy to use hand tools.
Drilling or tapping is not required. Can be used in conjunction with a Maxi Pump to provide total oil cooling and protection for your engine.