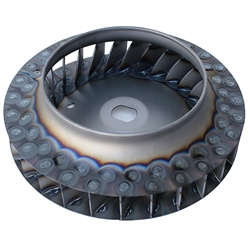 Late Model VW Cooling Fan (Welded)
CB start with a balanced Late Model Cooling Fan, and strengthen it with spot-welds on every tab. This creates a stronger part, that will last years longer while tolerating higher RPM's.
Replaces all 1971 and later Dog House fans on upright T-1 & 2 VW engines.
This fan measure's at 37mm, 6mm wider than standard VW fans, and is required for use with all set-back or 'Dog House' fan shrouds.