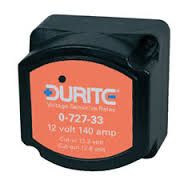 Intelligent Split Charge Relay
Leisure battery charge relay
Automatic intelligent split charge relay.
Prioritises the charging of the engine battery first. Will only charge the leisure battery once the engine battery reaches a set state. Always ensures the engine starting battery is in top condition.
Bi-directional charging, to allow solar or mains hookup supply to charge both batteries.
Cut-in 13.3v
Cut-out 12.8v