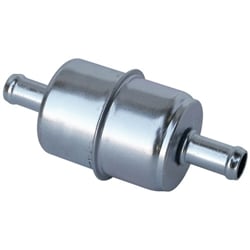 Fuel Filter - EFI
Fuel injection requires the use of a high volume, high-pressure pump, and matching Full Flow Filter.
This all-new metal case Full Flow Filter is just the ticket to provide your injection system with a high volume of clean fuel. The sturdy metal filter case is equipped with 14mm inlet and outlet to assure proper flow to the pump intake. The pleated inner filter is supported by a steel sleeve to assure rigidity and improved filtration.
Direct replacement filter for CB Performance EFI kits.