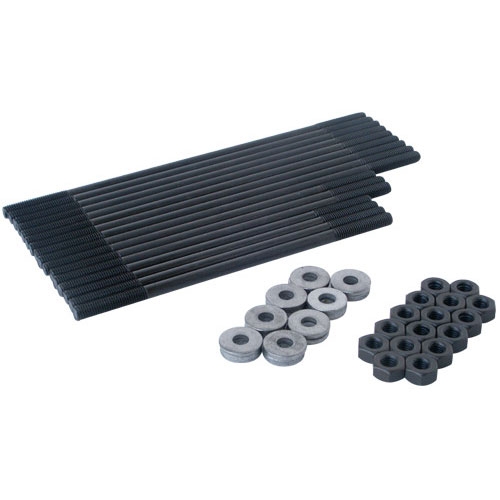 Cylinder Head Studs - 8mm Chromoly - Dual Port
Before you bolt'em on make sure they are certified MIL Spec S-6758 F4

No gimmicks! Simply the best head studs money can buy at any price! Manufactured from special Mil spec 4130 F4 Chromoly to provide a uniform holding force. CB Chromoly Head Studs are hardened, tempered, cold drawn and feature rolled threads. Center less grinding assures maximum strength and fatigue resistance. CB Chromoly Head Studs represent state-of-the-art metallurgical and manufacturing technology and are rated at 145,000 psi tensile strength. Chromoly Head Studs are Ultra 90 Black coated and packaged in complete sets with hardened washers and hex nuts. Complete kits are available to fit 8mm and 10mm applications.

A special long stud is included for late model engine cases.

These studs are 1/2" longer than stock.