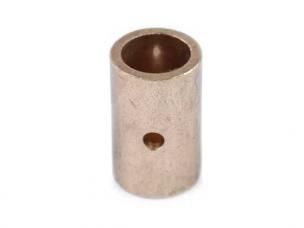 Clutch Arm Bush - 20mm
HEAVY DUTY 20MM OILITE CLUTCH CROSS SHAFT BUSHING (OIL IMPREGNATED)
Heavy duty Oilite bushings won't crush or distort when used with hydraulic slave cylinders and/or aftermarket HD clutch pressure plates.
Instead of plain brass, (or plastic as often sold), these bushings are machined from a high quality oil filled bronze material that is self lubricating to provide a zero maintenance setup.
Unlike plain brass, the oil-impregnated bushings won't seize up when exposed to moisture or when the vehicle sits unused for long periods of time.
Applications:
'73+ VW Type 1,
'76-'79 VW Type 2 (091 Bus),
'80-'83 Vanagon (Air Cooled),
'84+ Vanagon (Water Cooled),
Mendeola MD4E, MD4-2D, MD5, Mendeola S4/S4D/S5/S5D.
Replaces VW part # 113-141-707C.
Sold individually.