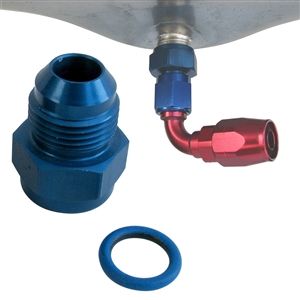 Fuel Tank Adapter/ Fuel Outlet - #8 AN to VW
CB Performance has made it easy to connect your high volume fuel system to a stock VW fuel tank!
These billet 6061 fittings are finished in a blue anodized coating to match aftermarket hose ends. They feature an industry standard 37° (JIC) taper and are available in -8 so connecting to your stainless line system is now a breeze. Each fitting comes with a coated Viton sealing o-ring for use with all standard or racing fuels.

*Not recommended for use with nitromethane or alcohol fuels.

(Hose end fitting shown in the photo not included)