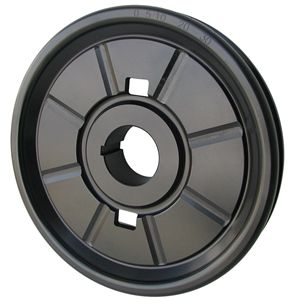 7" Billet O.E. Style Crankshaft Pulley
Manufactured from a solid billet of T-6 Aluminum, anodized black, with the original style of a stamped steel OEM pulley.
Manufactured by CB Performance for Flat 4 to original VW specifications and standards.
You can keep your stock size fan belt and not worry about proper fit. Now with timing marks and numbers at 0, 5, 10, 20, and 30 degrees. We have even added a line at BDC for ease of valve adjusting!
CNC precision machined to spin true for that stealth high performance engine.

Measures 7" in diameter.