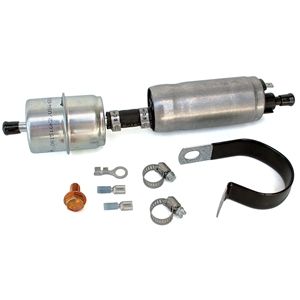 Fuel Pump
Rotary
Increase your engine's performance with a Rotary Fuel Pump.
You can run it with leaded or unleaded petrol.
It's a rotary so it runs quiet and smooth without fuel surge. An internal pressure regulator supplies a constant 3 1/2 PSI of uninterrupted fuel pressure at up to 30 gallons per hour.
Each Rotary Fuel Pump is supplied with a complete mounting kit and instructions.
The new Rotary Fuel Pump is the right performance choice when moving up to a set of Superformance Dellortos or Webers.
NOTE: REMOVAL OF FUEL FILTER VOIDS WARRANTY!
Replacement fuel filters available.